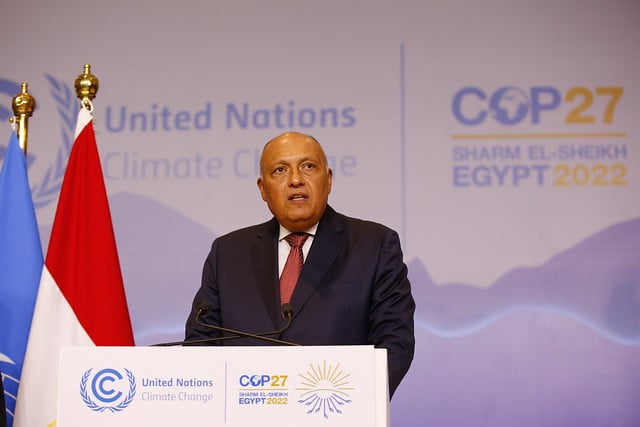 Here's what has been announced at COP27 so far…
COP27 is now over, with new commitments, pledges and initiatives made to curb the rising global temperature over the two-week event.
COP27 is now over, with new commitments, pledges and initiatives made to curb the rising global temperature over the two-week event.
With over 200 members, 120 countries – both developing and developed countries – and 80 institutions are all working together to ensure the implementation of Nationally Determined Contributions (NDCs) across the globe.
Commencing with the World Leaders Summit, more than 100 world leaders attended to work towards the implementation of existing climate agreements. H. E. President Abdel-Fattah El-Sisi opened the summit with a plenary, followed by various roundtable discussions.
We're looking at what's been announced since then.
UK announces additional funding for developing economies at COP27
The UK's Foreign Secretary, James Cleverly announced a range of UK investments worth more than £100 million to support developing economies in responding to climate-related disasters and adapt to climate change impacts.
This comes along with a new package of funding for adaptation programmes announced by Prime Minister, Rishi Sunak, of triple its previous funding from £50 million to £1.5 billion in 2025.
"Central to all our efforts is keeping our promises on climate finance, so the UK is delivering on our commitment of £11.6 billion. To support the most vulnerable who are experiencing the worst impacts of climate change, we will triple our funding on adaptation to reach £1.5 billion a year in 2025."
Mr Cleverly also commented:
"The Glasgow Climate Pact gave the world the tools to limit the rise in global temperature to 1.5 degrees and build a secure and sustainable future. Now is the time for all countries to step up their action on climate change and deliver the tangible change needed.
The UK will continue to play a leading role in this mission. The funding we have announced will support countries which are facing the devastating impact of climate change, to adapt effectively."
£20.7 million Disaster Risk Financing was also announced to support countries which face climate-related disasters — helping them to afford insurance and access reliable funding more quickly after a disaster. £13 million will be spent to support vulnerable countries to adapt to climate impacts and towards efforts to avert, minimise and address loss and damage.
To support our green innovation and decarbonisation efforts a further £65.6 million has been announced for the Clean Energy Innovation Facility. This funding will provide grants to researchers and scientists in developing countries to accelerate the development of clean technologies.
A key focus on 'loss and damage'
As COP27 entered its final days calls for more progress on loss and damage caused by climate change became a key focus. Recent floods and droughts in Pakistan and the Horn of Africa respectively have increased the pressure for developed countries to establish a fund at COP27.
The G77 group of 134 developing nations and China put forward a proposal for establishing a fund. However, whilst there have only been informal consultations, it is still yet to be seen whether a formal agreement on tackling loss and damage will be made.
Molwyn Joseph, Health, Wellness and Environment Minister of Antigua and Barbuda said, "We have come too far to fail on loss and damage finance." Accessing a formal fund to pay for the damages and losses is crucial to tackling climate change, together.
Renewed global action on nature
The Environment Secretary, Therese Coffey, called for global action on nature after setting out an ambitious path forward for nature at COP's Biodiversity Day. The government announced to commit £30 million of seed finance into the Big Nature Impact Fund – a new private investment into nature projects.
An additional £12 million has been pledged to the Ocean Risk and Resilience Action Alliance to protect and restore vulnerable coastal communities and habitats, amongst other funding.
Speaking at Biodiversity Day at COP27, Environment Secretary Thérèse Coffey said:
"Over half of the world's GDP is reliant on nature, which is why the United Kingdom put nature at the heart of our COP26 Presidency and led calls to protect 30 per cent of land and ocean by 2030.
We continue to demonstrate international leadership through commitments to create a natural world that is richer in plants and wildlife to tackle the climate crisis, and at next month's meeting of the UN Convention on Biological Diversity we will strive for an ambitious agreement that includes a global 30by30 target, a commitment to halt and reverse biodiversity loss, and an increase in resources for the conservation and protection of nature from all sources."
Launching a new Forests and Climate Leaders' Partnership with a budget of £150 million to protect rainforests and natural habitats including the Congo basin and Amazon. £65 million in funding has been confirmed for the Nature, People and Climate Investment Fund supporting indigenous and local forest communities and new financing for Treevive – working to conserve and restore two million hectares of tropical forest.
Youth-led Climate Forum makes COP history
Before COP27 began, COY17 which convened over 1,000 young people from more than 140 countries, represented their key demands, paying attention to: Action for Climate Empowerment, Adaptation and Resilience and Accessible Finance.
COP27 hosted the first-ever Children and Youth Pavilion, and the introduction of a Youth Envoy to the process, supporting COY17 in launching the first-ever youth-led climate forum.
"The impacts of climate change have significant effects on the health, nutrition, education and the future of young people, meanwhile youth stands to be the most impacted by the decisions we take at the climate process. Thus, they should be considered a natural ally and partner in driving climate action." said COP27 President H.E. Sameh Shoukry.
"Ensuring that the youth are represented and have a seat at the table is of absolute importance as it is their future lives and livelihoods that are directly impacted with the implementation of climate commitments" H.E. Shoukry added.
This forum aims to remove some of the barriers that normally affect meaningful participation of young people at COPs.
Draft COP27 agreement
A first draft of what could be the overarching agreement from COP27 was published by the UN Climate Agency on Thursday. It is, however, likely to be reworked in the coming days.
The draft currently includes no details for a fund on loss and damage but welcomes the fact that parties agreed to include 'matters related to funding arrangements responding to loss and damage' on the summit agenda.
It also doesn't include a call for a phase down on all fossil fuels as many countries expected but it does stress the importance of exerting all efforts to meet the Paris Agreement goal of 1.5 degrees.
However, the international NGO Action Aid called for the Egyptian presidency to rewrite the draft, noting the weak phrasing around the phaseout of fossil fuels.
Keep up to date with the latest COP27 Insights
We will be continuing to monitor any updates coming out of the discussions as they go into Thursday evening, even as COP27 draws to an official close, and how this could affect UK businesses. Keep an eye out for an update on what was achieved at COP27 next week.
Get in touch with our experts about your businesses net zero and decarbonisation plans today on 01772 689250 or email [email protected].
Follow along with Inspired PLC's COP27 coverage, including social media, articles, coverage and sign up for daily updates straight to your inbox on our COP27 Insights Hub.