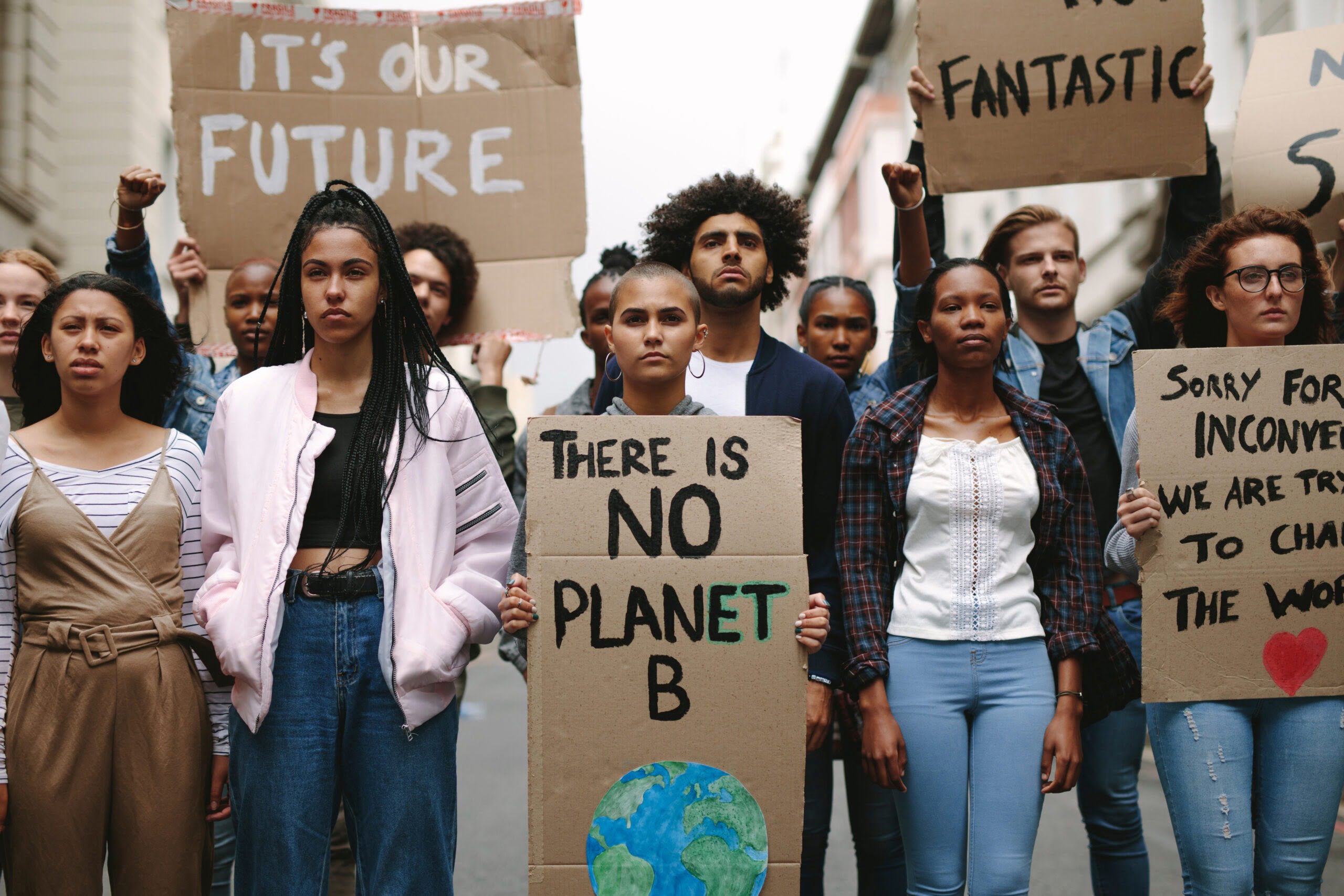 Did you know that Generation Z is pursuing careers focused on addressing the climate crisis more so than other generations? Generation Z ranks climate change as the most important issue of our time according to the Amnesty International Survey.
Young activists like Greta Thunberg, who burst onto the climate change scene at age 15 in 2018, have been driving a stronger call for action on climate change, across conferences and other events worldwide.
Immediate action is needed – the recent report from the Intergovernmental Panel on Climate Change's (IPCC) Working Group 1 noted that the global temperature has already breached 1.1°C from pre-industrial times and is likely to breach 1.5°C by 2040, which could result in irreversible changes. Cutting carbon emissions is now at the heart of every sustainability plan to help tackle the effects of climate change.
CO2 concentrations are at more than 417 parts per million (ppm) where pre-industrial levels were 278 ppm – meaning we're already halfway to doubling the concentration of CO2 in the atmosphere. Alongside this, sea levels are rising at a much faster pace than they ever have before, and arctic ice is rapidly diminishing. So, is it any wonder why Gen Z feel so strongly about actioning climate change and making a real impact within their everyday lives?
The COVID-19 pandemic has also had a substantial effect on the environment. During the lockdowns, commuting was reduced significantly, work continued over digital solutions and the Venice canals saw a dramatic improvement in their clarity due to a reduction in human traffic, whilst the UK had it's own leading record in reducing its own emissions: down by 40% from 1990 to 2019, the largest reduction in the G20, but there's still a long way to go.
We spoke to some of our very own graduates here at Inspired to learn their views and opinions on climate change and what they do or would like to do to contribute to reducing carbon emissions. Declan Sheehan, a graduate within our Product Development team spoke to us about why he got involved within the energy industry.
"Coming from a Zoology background one of my biggest concerns is around our deteriorating ecosystems – melting glaciers, shifting, and reducing ranges for both plants and animals. But what troubles me the most is the amplified impact climate change will have in developing countries and the number of "climate refugees" this will cause.

"While disproportionate to the impact those countries have had, increasingly occurring droughts and heat waves will limit water availability and reduce agricultural yields, forcing people to leave their homes. Behavior on a local level is felt globally, which is why I chose to pursue a career in which I can work towards making changes that will support a global effort."
Climate refugees describes the large-scale migration and cross-border mass movements of people that were affected by weather-related disasters. Many people in developing countries suffer from droughts, windstorms, hurricanes and more. Data has shown that 21.5 million people have been displaced by climate change related disasters, made more difficult by food and water shortages.
Cameron Stokes, a graduate from our Regulated Services team had a different initial focus when it came to choosing an organisation to start his career in.
"After leaving university, my goal was to find a job where I could help to create and maintain sustainable built environments, with my primary goal to join a design or architecture firm. Before joining Inspired, I didn't realise just how much I could achieve through a role in the energy industry. Joining the Regulated Services team means I've been able to contribute towards improving sustainability in buildings, such as working with NHS trusts to develop their net-zero green plans and exploring decarbonisation strategies within the education sector to help schools to reduce their energy use".
Heating currently accounts for 37% of the UK's carbon emissions. Decarbonising heat within built environments is a huge challenge on our net-zero journey and that include, both businesses and homes alike. Currently only 5% of homes have low carbon heating and the UK is dominated by fossil fuel gas, although commitments from the UK's recently announced Net-Zero and Heat and Buildings strategies have looked to address this.
Belen Chafloque-Villagomez, our graduate Project Co-Ordinator, has been with us for just over a year, she says:
"As a Chemical Engineer, I felt well-informed about the environmental changes that have been suffered over the years due to misuse of (non-renewable) energy and societal bad habits including as deforestation, sea pollution, burning fossil fuels, etc.

The concerns I consider most urgent are global warming, air pollution, ozone layer depletion, water pollution and climate change. This partly inspired my decision to choose energy as a career path. Due to my background in engineering, I have always been interested in efficiency and optimising the use of resources, which I feel has a direct impact on the environment and environmental change and is also one of the key aspects that attracted me to Inspired Energy as a company."
With all that influences and affects the climate world, it's clear to see that we need to work together to reduce the effects of our modern world on the environment and we thank our graduates for sharing their drivers for this post.
Climate influence
A report by Pew Research showed that 32% of Gen Z have recently participated in at least one major environmental action. With 69% of Gen Z reporting feeling anxious about the future and many feeling like there isn't enough being done to tackle climate change; here's what some of our own graduates are doing in their day to day lives.
"I have adopted a non-meat diet, avoid single using plastic products, shop locally and purchase more bulk food instead of packaged products, take paperless notes and keep most of my documents in a digital format, donate or reuse as much as I can, and buy second-hand home supplies and vintage clothing. It is a continuous process of improving and adopting new ways to help the environment. But I believe that every single effort counts towards a more sustainable future." Raquel Rodrigues, graduate.
According to Deloitte, 61% of consumers have limited their use of single-use plastics over the past 12 months, 49% said they had committed to using seasonal produce and 45% bought more locally produced goods. However more can still be done. Only 19% opted for low carbon or shared modes of transport, 16% switched to renewable energy sources and 7% contacted a brand to raise an issue on their sustainability or ethical practices.
Declan Sheehan, graduate has also taken action to reduce his own carbon footprint.
"As consumers it is important to understand that everything we purchase has a carbon footprint, my first lifestyle choice was therefore to reduce the number of things I purchase. Cutting down on single use items and trying to repair and reuse items is the best way to do this, and this in turn also reduces my waste. Recently I have also made a conscious effort to reduce how often I consume meat and dairy, but for all my food I see the most important way of limiting my carbon footprint is to purchase as much as I can from local sources."
The UN's Food and Agricultural Organisation says that the meat and dairy industry accounts for roughly 14.5% of global greenhouse gas emissions. Around half of the planet's habitable land is used for agriculture, with 77% used by grazing cattle, sheep, goats and other livestock.
A call for a 50% reduction in meat and dairy production by 2050 relative to current levels will reduce GHG emissions from the agricultural sector by 64% compared to projected emissions under the 2050 baseline trajectories.
Reducing our reliance on traditional farming and moving towards ecological farming, which still provides the amount of food needed but has a significantly reduced impact on the environment will help reduce our carbon emissions.
Calum Forde commented:
"One of my main concerns is water pollution. Clean drinking water is realistically turning into an uncommon thing. As we know waste from industrial and agriculture activities it pollutes the water that is used for humans, plants, and animals. It's a big concern as water is needed just for survival so contaminated water is dangerous. Not only that with how fast the population is growing, that means the water is also getting polluted at equally a high rate."
Cameron Stokes, graduate said.
"Like many people, my personal journey towards becoming more sustainable has been a slow one; in many ways, I'm still at the start. My current focus is on reducing the number of single-use plastics I use, especially in the food products I buy. 

"I am also reducing the amount of red meat I consume and any animal products that I do buy I make sure they are local, and sustainably farmed. My biggest challenge at the moment is reducing my overseas shopping and making sure that wherever possible I'm purchasing products with a smaller carbon footprint."
Transport is a huge part of our carbon footprint with around one-fifth of global carbon dioxide emissions contributed by transport alone. There has been little change in transport emissions since 2009 with 2019 levels only down by 3%. Belen Chafloque-Villagomez comments:
"I recycle all my waste and try to shop only environmentally-friendly products. I walk and use public transport whenever possible. I try to be mindful of what energy I am using and where I can reduce my own carbon footprint wherever possible, as I feel small changes by a significant number of people can make big differences to our environmental impact as a collective."
Changes in big business
Whilst as individuals we can take certain actions to contribute to the reduction of carbon emissions, larger businesses can make a significant impact by improving their processes and energy efficiencies and lead by example. Gen Z feel that businesses should take on more responsibility when it comes to tackling climate change.
"Getting larger businesses to act on climate change requires coordinated action to be taken on every operational level, from intern to CEO. A big part of making this happen is to make sure everyone has the ability to contribute and is engaged with the net-zero mission. If the desire for change can be instilled in a company's ethos, then it makes developing strategies for carbon reduction much more likely to be effective." – Cameron Stokes, Regulated Services graduate.
The UK has committed to one of the most ambitious net-zero targets of a 78% cut in emissions by 2035 compared to 1990 levels. Businesses have been tasked with reducing their carbon emissions through schemes and taxes which vary business to business. Operating in a more environmentally friendly way not only benefits the environment but also the business itself in the consumer's mind.
A recent UNiDAYS survey revealed that 93% of Gen Z believes that brands have an obligation to take a stand on environmental issues. Including company-wide environmental policies and smart climate related investments – a company that acts is more likely to see favorability from Gen Z. Especially with more than $140 billion worth of buying power and one of the fastest-growing consumer segments.
"It is very concerning how rapidly life on earth has been seriously affected by climate change; the loss of biodiversity, extreme weather, increase of wildfire and catastrophic flooding. These effects are critical and should be taken with all seriousness and careful consideration.

"Studies have shown that the most impacted are the most vulnerable and least able to afford its consequences. Therefore, it is essential to protect those who are most in need. The best way, I believe, is to accelerate our transition to low-carbon technologies, significantly reduce our greenhouse gas emissions, and adopt a more sustainable economy.  To be part of the solution is what inspires me. I want to contribute with meaningful work and help move forward to a better future for our environment and our communities." Raquel Rodrigues, graduate.
Calum Forde also commented:
"I know it's starting to become more popular than ever but encourage clean transportation. Making iteasier for employees to use clean transport. Many large businesses have already started to put this into place however I think more elements could be done which could make it more feasible for employees. Also going paperless, currently many corporations are sending digital and paper copies of documentation. Majority of customers have access to digital devices therefore not needing it."
Businesses that choose to ignore or simply not adopt any environmental practices may face significant implications to their bottom line. A LIM College study revealed that almost 90% of respondents agreed that "Millennials and Gen Z will help create more sustainably-produced products by convincing businesses and governments to alter existing practices".
A business's sustainability practices aren't just limited to the way they produce their products or services but also their approach to social justice issues – with 80% of UK consumers saying they have stopped purchasing products or services based on the company's response to a certain issue which doesn't align with their views.
The next generation isn't just championing for better and more impactful change to the environment but putting additional pressure on businesses to make changes as they are able to make significantly more impact than any single individual.
Driving net-zero with Gen Z
Millennials and Gen Z are driving the change we need to reach our net-zero goals. The younger generation, also known as the 'green generation', is demonstrating to organisations and government that work isn't just a 'job' for them. They want the business they work for to have environmentally and socially conscious policies that make real impact on the world. Urging businesses to take an active role in driving sustainability, is becoming more critical for employee engagement, talent recruitment and retention.
"The planet is the place we live, it's our house. What inspired me to work toward a better future is the motivation for making Earth a safer place to live. A lot of my background in Chemical Engineering promotes efficient use of resources and I feel the application of this to energy use will help us move towards a better more sustainable future for our planet." – Belen Chafloque-Villagomez

"My biggest inspiration is to make a meaningful contribution. Life on our planet is a beautiful miracle. As I grow more aware of how unique every manifestation of nature is, I am also becoming more conscious about protecting our environment and providing the best resources for our generations to come. In my view, the most impactful work is one that gives back to our planet. It is the highest expression of talent, passion, and cooperation." – Raquel Rodrigues

"Within my career at Inspired Energy I hope to help other organisations to fulfil both their commercial and sustainable requirements, as well as support society's needs in reducing our emissions to net-zero. While business processes will need to change, I hope to help companies realise the opportunities this will generate, allowing for a greater uptake in sustainable practices and the achievement of our countries 2050 net-zero goals." – Declan Sheehan
There is still so much we can do to meet our net-zero target, particularly in industry. Embracing sustainability as a core element of your business' overall strategy is not only key to attracting and retaining young talent, it can also help your business better prepare for the future and work towards a more ecological operation.
We'd like to thank our wonderfully talented graduates, Declan Sheehan, Calum Forde, Raquel Rodrigues, Cameron Stokes, and Belen Chafloque-Villagomez, for taking part in the discussion of the future of climate change with us. Let us know your take on social media, using #AskInspired and #InspiredInsights.
See how Inspired can help prepare your business for the next generation.