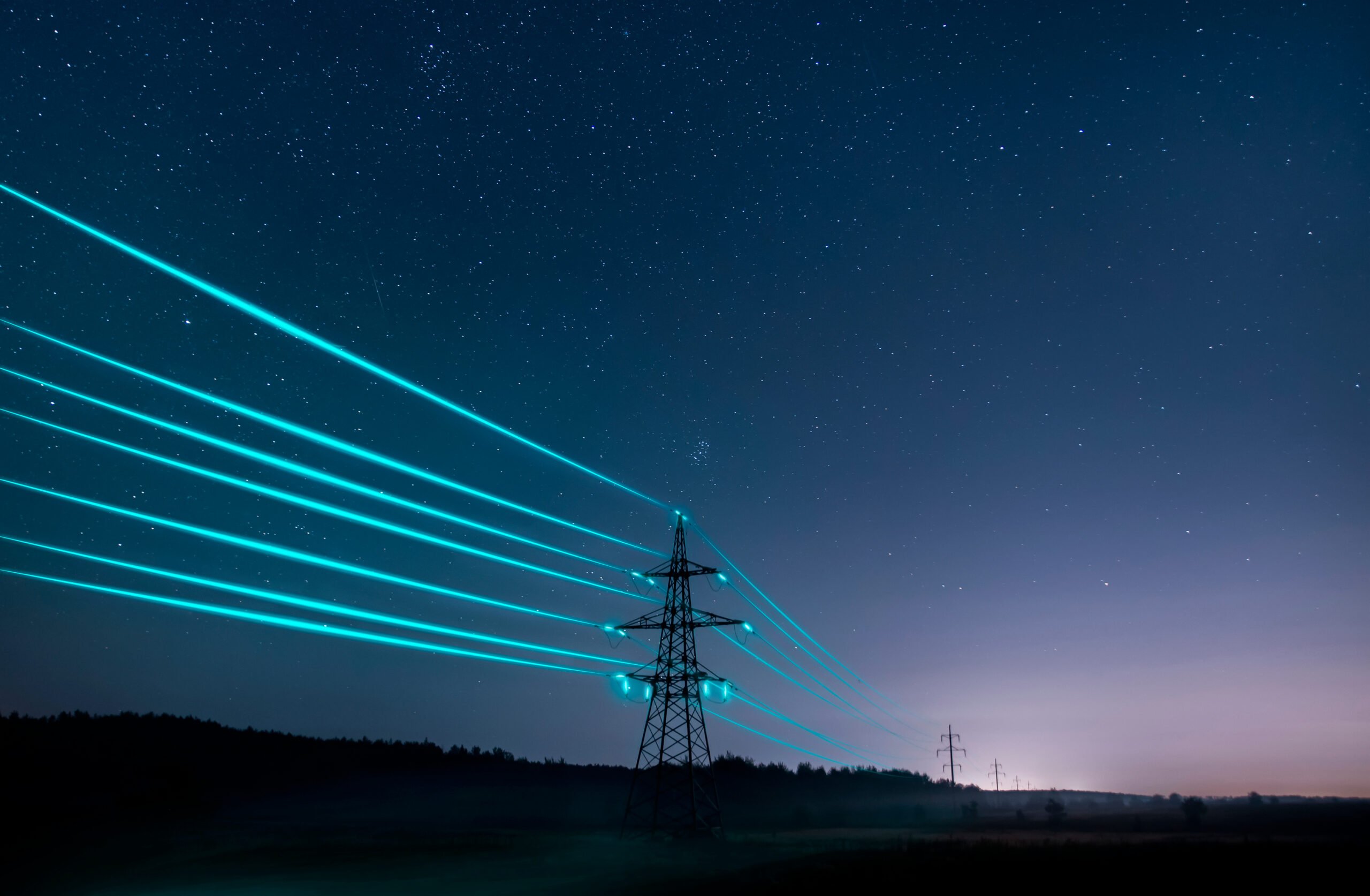 UK Blackout: Government emergency strategy explained (non-domestic)
UK blackout plans have been outlined in the unlikely case of prolonged electricity shortage, as a last resort, ensuring fair distribution nationally whilst protecting those who require special treatment.
UK blackout plans have been outlined in the unlikely case of prolonged electricity shortage, as a last resort, ensuring fair distribution nationally whilst protecting those who require special treatment, known as the Electricity Supply Emergency Code (ESEC).
The National Grid ESO warned the UK that there may be an increased risk of gas shortages this winter; although this is unlikely, they have planned for blackouts throughout regions of the UK in early 2023.
Here we explore what the Government will do if faced with a shortage of energy and what a UK blackout will mean for your business or organisation.
Why are blackouts a possibility?
There have been many dramatic changes to the energy market over the past twelve months, all of which, have put increased pressure on our energy systems. Rising costs, market volatility, the war in Ukraine and Russia halting its gas exports, have all meant that managing energy has been extremely challenging for the UK.
With potential gas shortages this winter, there's a possibility that the UK's gas supply won't be able to meet demand, leaving the grid at risk. Whilst this possibility is slim, the Government have created a three-stage plan in the ESEC that explains the 'exceptional powers for controlling the sources and availability of energy'.
Read more on how to get prepared this winter.
What do possible planned blackouts mean for your business?
Stage two of the Government's ESEC plan is where industry and businesses will be affected in the event of a blackout. Under the Energy Act 1976, the Government can invoke 'orders or directions' restricting electricity use.
Due to the severity of these powers, an Order of Council would need to be made by Ministers, and be officially approved by the King, for them to be used. This power allows the Government to restrict electricity use on specified days of the week on manufacturing and commerce. They can also require that consumption is reduced by a certain percentage. During this time, any sites that are using more power than they were allocated will be pointed out to the authorities by the energy companies.
UK blackout: Who is exempt?
There are, however, some organisations and businesses who are exempt from electricity supply restrictions. They would need to meet one of three criteria: a national or regional critical need, a public health and safety issue, or the potential for catastrophic damage to a high-value industrial plant.
Essential services that are exempt include:
Hospitals
Emergency services
Water and sewage installations
Major food manufacturing, processing, or storage locations
Gas infrastructure, electricity generators, and oil pumping and refineries
Major airports, railways, ports, and docks
National communication networks
Essential financial services
Armed forces sites providing civil protection
Industrial sites where shutdowns would cause significant financial damage
If you believe your business or organisation falls into one of these essential services, you can provide further clarification to the Network Operator in writing. Or approach the lead government department or devolved administration responsible for the service or industry in which you operate, who will then advise the Department for Business, Energy, and Industrial Strategy (BEIS) if your site's activities fall within the approved services and if it should be listed.
Are blackouts likely?
In the highly unlikely event that all our gas power stations were shut down, we would still be able to access coal and nuclear power as well as renewable generation such as solar and wind farms.
Fintan Slye, Executive Director of National Grid ESO said,
"We are cautiously confident that there will be adequate margins through the winter period… We've engaged with and continue to work with the National Grid Gas System Operator, System Operator counterparts in Europe, government, the energy regulator, and the energy industry. We've also taken prudent action in agreeing winter contingency contracts for coal and developing our innovative Demand Flexibility Service to compliment the robust set of tools we already use to balance the electricity system every day."
So, it is very unlikely that we will experience blackouts this winter but, in the case where we do, you can find out when you may be affected through your rota code.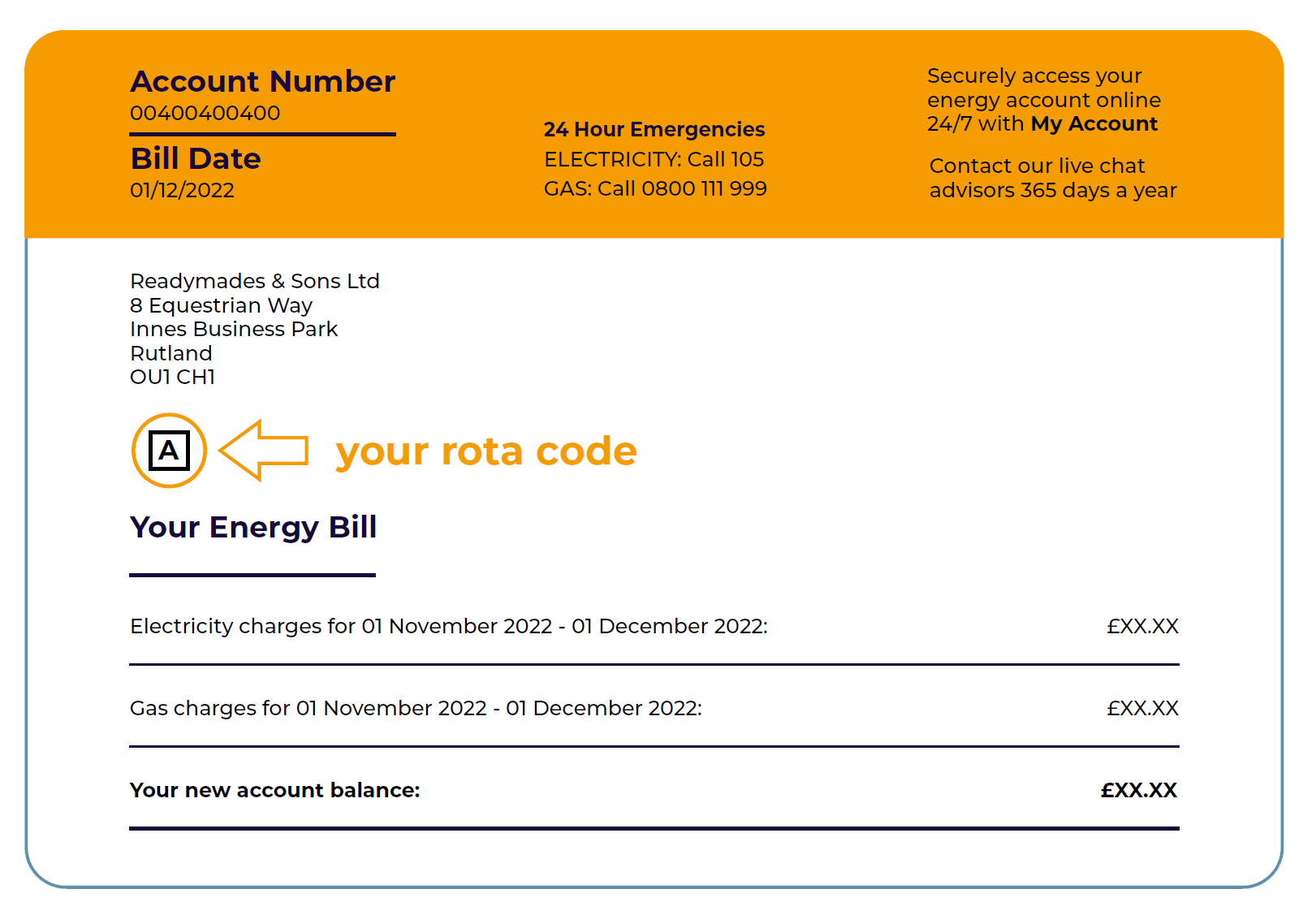 How to find out when you may be affected
Your rota code will then tell you what day and time of week to expect a blackout in your area. Find this information in the Government's ESEC documentation.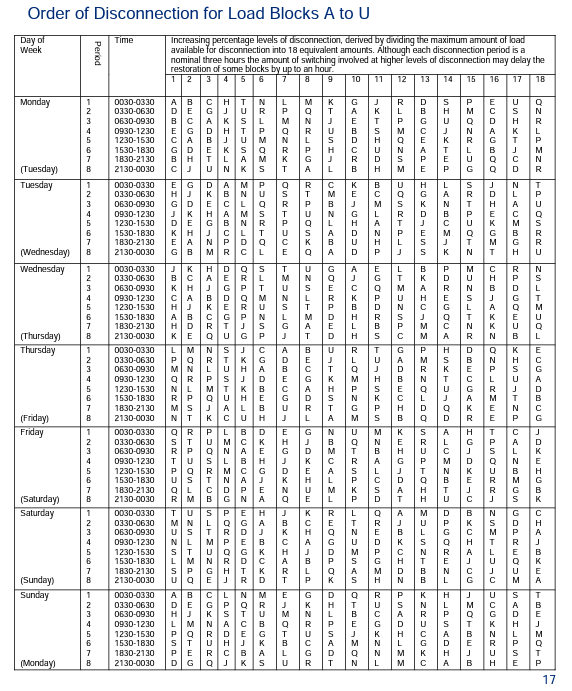 Source: gov.co.uk
The rota plans set out in the Government's ESEC document also vary by level, from level one disconnection, all the way to level eighteen disconnection – it is good to note that it's highly unlikely that we will reach even level one disconnection this winter.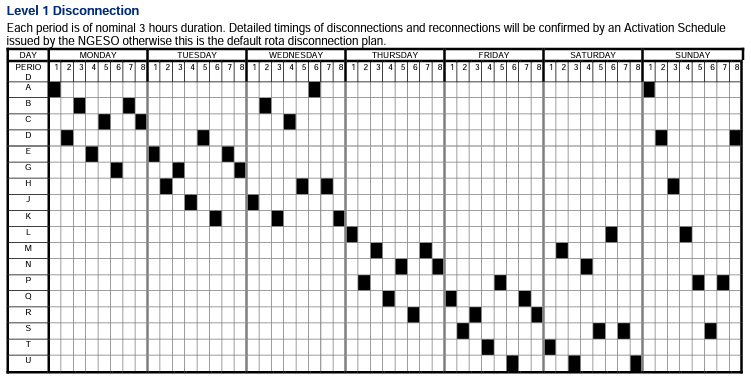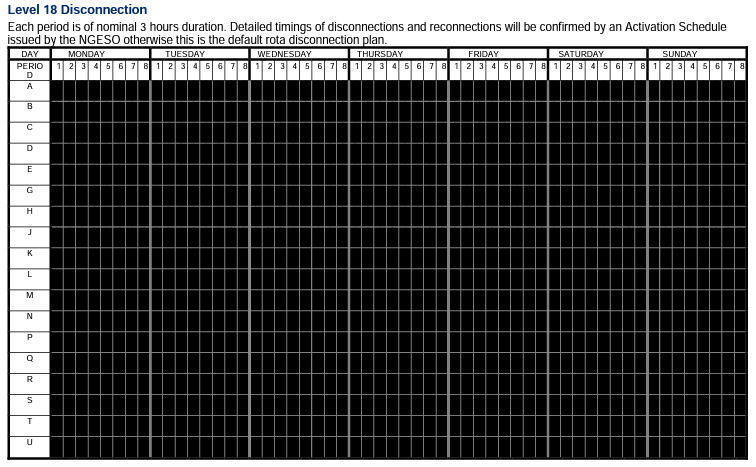 Source: gov.co.uk
What else should you know ahead of the blackouts
In the event of a blackout, each disconnection period will last for 3 hours, and the number of codes to be utilised will depend on the severity of the issue. Anywhere from one code to seventeen can be active at any one time.
Download our 'Preparing for possible UK blackouts' guide
Our updated 'Preparing for possible UK blackouts' guide explores the risks businesses may face in the event of a blackout as well as:
Understanding your risk
Planning ahead
Checking your supply contract
Optimising your usage
On-site generation alternatives
Top tips for facing a blackout
Get prepared with expert support in your corner
Whilst we don't expect blackouts to happen this winter, it's always best to be prepared. Working with an expert who has full visibility of the energy market, can help you to find the ideal buying solution for your business. We're completely independent and have complete access to all energy trading broker platforms and exchanges.
Get in touch with our experts to discuss your energy options today on 01772 689250 or email [email protected].