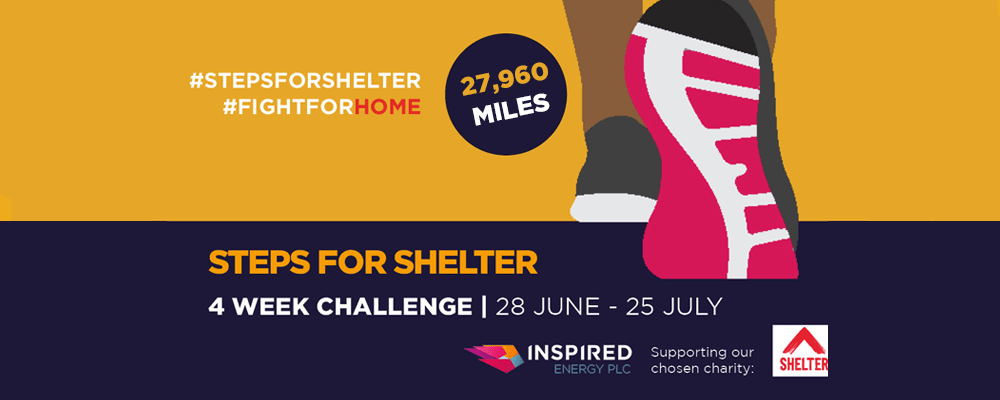 Steps for Shelter Challenge 2021
200+ employees will be taking part in our 'Steps for Shelter' virtual walk challenge.
Over the next 4 weeks, more than 200 employees at Inspired PLC will be taking part in our 'Steps for Shelter' virtual walk challenge, raising money for the UK's leading housing and homelessness charity, Shelter.
Did you know that 6 million households are denied the right to a safe home or are threatened with losing it? In fact, 4,750 people sleep on the streets on any given night. Shelter helps millions of people every year by tackling the current housing emergency, a cause that we are proud to support.
Our employees have assembled themselves into 24 teams, and have set a target to walk 27,960 miles, which is the equivalent of walking from our Head Office in Kirkham, to every office north and south and back again – fifteen times.
Fundraising aside, we hope that the challenge will bring out teamwork, competitiveness and encourage a healthy amount of activity and exercise amongst the Inspired workforce. Additionally, now lockdown restrictions are easing, some of our colleagues are looking forward to having a socially distanced walk together, meeting up for the first time in over a year.
Home is everything, so please help us reach our fundraising target of £5,000. If you would like to donate, visit our JustGiving page here or to find out more about Shelter, visit https://england.shelter.org.uk/
Make sure to follow us on LinkedIn to keep up to date with our progress!