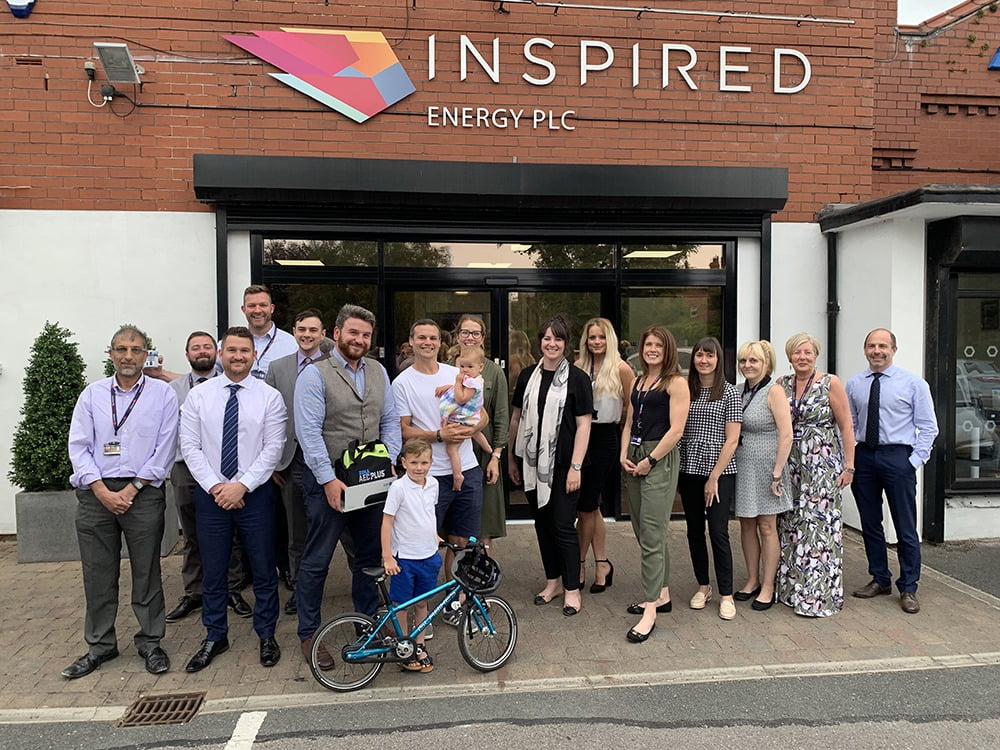 Inspired supports local boy with donation of a defibrillator to Ansdell
A young Ansdell boy – who has raised thousands of pounds to provide a public defibrillator for the village – has received a boost after receiving a donation of a further piece of the life-saving equipment thanks to his godfather and his godfather's employer, Inspired Energy. Austin Brennand, who is five years old, was born […]
A young Ansdell boy – who has raised thousands of pounds to provide a public defibrillator for the village – has received a boost after receiving a donation of a further piece of the life-saving equipment thanks to his godfather and his godfather's employer, Inspired Energy.
Austin Brennand, who is five years old, was born with a rare heart condition, 'Tetralogy of Fallots', which required open-heart surgery when he was just three months old.  The inspirational youngster has just undertaken a 10K charity cycle ride across the Fylde Coast to raise funds for a further two defibrillators , after already donating one which resulted in three lives being saved, including that of a two-year old girl.
His charity mission has now received a further boost after his godfather, Nick Campbell, organised a dress down day at his employer, Inspired Energy, on Friday 12 July, which raised over £320 and helped Austin exceed his £3000 target.  In addition, Inspired Energy donated a defibrillator, meaning any money raised can go towards further life-saving equipment for the town and surrounding area.
Austin says:

"I wanted to raise money for a defibrillator because I had to have an operation on my heart when I was a baby.  It is great that the one I have already donated has saved lives.  I'm really pleased to get another one from Nick and Inspired Energy, and that they have helped me reach my fundraising target."

Nick Campbell adds:

"Words can't describe how proud we all are of Austin.  He really is an inspiration, and the fact that his fundraising has directly saved lives is just wonderful.

"I knew Inspired would want to contribute as it has a long track record in supporting both local and national causes.  I initially suggested a dress down day to help Austin reach his £3000 target, so when Inspired said it could also donate a defibrillator, it was really unexpected, but hugely appreciated by both myself and Austin's family."
Although the exact location for the defibrillators have yet to be decided, it is anticipated they will be placed on the main high street in Ansdell. They will be accessible 24 hours a day, seven days a week and will be registered with the local ambulance service who will provide the access code in an emergency.
Austin is still fundraising – anyone who wants to donate can do here – https://www.justgiving.com/crowdfunding/austin-brennand