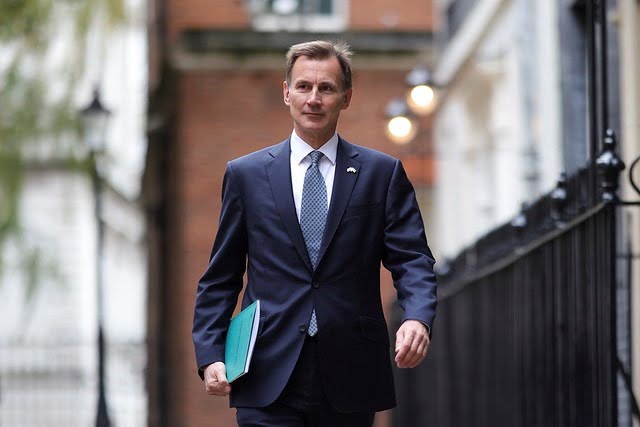 UK Chancellor announces his Autumn Statement 2022
Chancellor Jeremy Hunt announced his Autumn Statement 2022 in the House of Commons today.
With pressures of rising cost of living and energy prices, Hunt began by stating that in the face of unprecedented global headwinds, families, pensioners, businesses, teachers, nurses, and many others are worried about the future.
His Autumn Statement 2022 sets out plans to tackle the cost of living crisis and rebuild our economy. Stability, growth, and public services were at the top of the agenda in today's announcement. His plan says it will lead to lower energy bills and a 'stronger health and education system'.
We've collated key information on today's announcement that affect businesses and the energy industry.
---
Energy
Energy industry faces expanded windfall tax
The Chancellor confirmed today that oil and gas firms will be hit with an expanded windfall tax on profits of 35% up from 25% from January 1st until March 2028. He also announced that a temporary 45% tax on electricity generators will be introduced.
It's estimated that these windfall taxes will mean an overall increase in oil and gas companies' tax from 65% to 75% on profits from UK operations. Additionally, there will be a 40% tax on profits of older renewable and nuclear electricity generation, together raising £14bn next year alone.
Electric Vehicles (EVs) no longer tax exempt
Jeremy Hunt also announced that electric vehicles will no longer be exempt from Vehicle Excise Duty from April 2025. He says this move will make the motoring tax system 'fairer' and half of cars are predicted to be electric by then. However, Hunt reported that company car tax rates would remain lower for electric cars.
Support with rising costs
Businesses will see a £14bn tax cut on business rates – benefitting around 700,000 businesses. A new national ambition – by 2030 we will reduce energy consumption from buildings and industry by 15% – a £28bn saving or £450 off the average household bill. A targeted approach to help businesses will be announced from April next year. Learn more about the Energy Bill Relief Scheme here.
Climate Change
Hunt, opened with a statement that the UK has been a global leader by cutting emissions 'by more than any G20 country'. "But with the existential vulnerability we face, now would be the wrong time to step back from our international climate responsibilities," he says.
However, Hunt confirmed that the government will not be able to return foreign aid spending to 0.7% of GDP until the economic condition allows it – for the remainder of the forecast period, he will keep the spending limit of 0.5%.
He also notes that the government will remain fully committed to the Glasgow Climate Pact agreed at last year's COP26 – including a 68% reduction in emissions by 2030.
Sizewell C nuclear plant is a go
The Chancellor announced that cheap, low carbon, reliable energy must sit at the heart of any modern economy. So, contracts will be signed in the coming weeks to proceed with a new nuclear power plant at Sizewell C.
Located in the south east of England, Sizewell C is expected to provide up to 7% of the UK's total electricity needs, however the plant is not expected to begin generating electricity until the 2030's. This has faced some criticism due to its expense and time it will take to build. Hunt reports that it will create 10,000 jobs and provide power for six million homes for 50 years.
Energy efficiency
Our approach to energy needs to change, according to Hunt.
"Over the long term, there is only one way to stop ourselves being at the mercy of international gas prices: energy independence combined with energy efficiency".
He says that energy efficiency will translate into a reduction of demand and of climate impact.
Energy Bill Relief Scheme will be reviewed
The Energy Bill Relief Scheme has been reviewed by HM Treasury which will determine support for non-domestic consumers including public sector organisations beyond March next year. The findings will be published by the 31st December 2022, but the government has warned that the overall scale of the support will be 'significantly' lower and intends only to target those most affected.
Climate Change Levy rates will be rebalanced
In next years Sprint Budget, government plans to legislate to raise the Climate Change Levy (CCL) main rate on gas to £0.00775/kWh, whilst freezing the CCL main rate on electricity at £0.00775 kWh in 2024/25. The main rate on solid fuels will rise along with the CCL main rate on gas to £0.06064/Kg in 2024/25. The government plans to maintain the CLL main rate on LPG at £0.02175 in 2024/25 to help ensure the tax system treats off the gas grid fuels equitably. The CCL discount main rates will be fixed at 92% for electricity and 77% for LPG. Gas and solid fuel discount will be adjusted to 89% to produce an RPI increase.
Energy Profits Levy
It was also announced that the Energy Profits Levy rate will rise from 25% or 35% from 1st January 2023 and investment allowance will be reduced to 29% for all investment expenditure – other than decarbonisation expenditure, which will continue to qualify for the current investment allowance rate of 80%. This levy will end on 31st March 2028 and is expected to raise over £40bn over the next 6 years.
---
Infrastructure
Capital budgets
Hunt said that he will not cut capital budgets for the next two years, but will however, maintain them in cash terms for the next three years. Whilst the capital budgets will not grow as planned, they will still increase. Alongside this, more devolution deals will be made in England to boost levelling up.
Roads, Rail, Broadband and 5G infrastructure
Confirmation that rail projects including Northern Powerhouse rail, the HS2 and the East West Rail will go ahead as planned. Hunt states that there will be over £600bn of investment over the next five years to connect out country and grow our economy.
---
Innovation
The Chancellor stated that tariffs will be cut to support business supply chains.
Research and development funding is to be protected with an increase of £20bn by 2024-25. The removal of import tariffs on over 100 goods used by UK business from car seat parts to bicycle frames, will help support businesses.
The Energy Secretary is expected to publish further information on this at a later date.
---
Public Sector spending to rise
NHS
Whilst the chancellor announced a spending squeeze on many government departments, overall spending on public services will rise for the next five years. The health budget will also be protected as a strong NHS is at the heart of the Prime Minister's vision for the country.
A call to arms for the NHS to join all public services in tackling waste and inefficiency. Patricia Hewitt, the former Labour health secretary, has been appointed to advise the government on the efficiency of the NHS.
Hunt commented, "Efficiency savings alone will not be enough to deliver the services we all need". The NHS budget is set to increase by £3.3bn in the next two years, which will provide sufficient funding for the NHS to fulfil its key priorities, according to NHS CEO, Amanda Pritchard. Totalling an £8bn package for our health and social care system.
The NHS in Scotland, Wales and Northern Ireland will receive an extra £1.5bn, £1.2bn and £650m, respectively.
He also wants to reduce the demand on staff by freeing up hospital beds, proposing the Treasury will allocate £1bn more in 2023 and a further £1.7bn in 2024 to achieve this.
Education
The UK has risen nine places in the global league tables, but Hunt said he is concerned the school leavers don't have the skills needed to enter the workplace. To protect and increase the school budget, Hunt will pledge an extra £2.3bn in 2023 and 2024.
Schools in Scotland, Wales and Northern Ireland are also set to receive an extra £1.5bn, £1.2bn and £650m, respectively.
Investment zones will remain focused on universities in 'left behind areas' to help build growth clusters. Further announcements on this will be made in the Spring Budget.
Social housing
The chancellor says social housing rent increases will be capped at 7% from April 2023, to avoid rent increases of 11% due to inflation.
---
Closing remarks – Autumn Statement 2022
Chancellor Hunt closed his Autumn Statement 2022 with a statement of his own.
"There is a global energy, inflation and economic crisis. But the British people are tough, inventive, and resourceful… We aren't immune to the headwinds, but with this plan for stability, growth, and public services we will face into the storm. There may be a recession made in Russia, but there is a recovery made in Britain," Hunt adds.
He finishes by saying he has presented "a balanced plan for stability, a plan for growth and a plan for public services. "It shows that you don't need to choose either a strong economy or good public services."
What do these changes mean for your business?
Whilst the impacts of some of the announcements today are uncertain, you can speak to a dedicated energy expert to better understand your businesses position and the impacts it may face over the coming years.
Get in touch today on 01772 689250 or email [email protected].