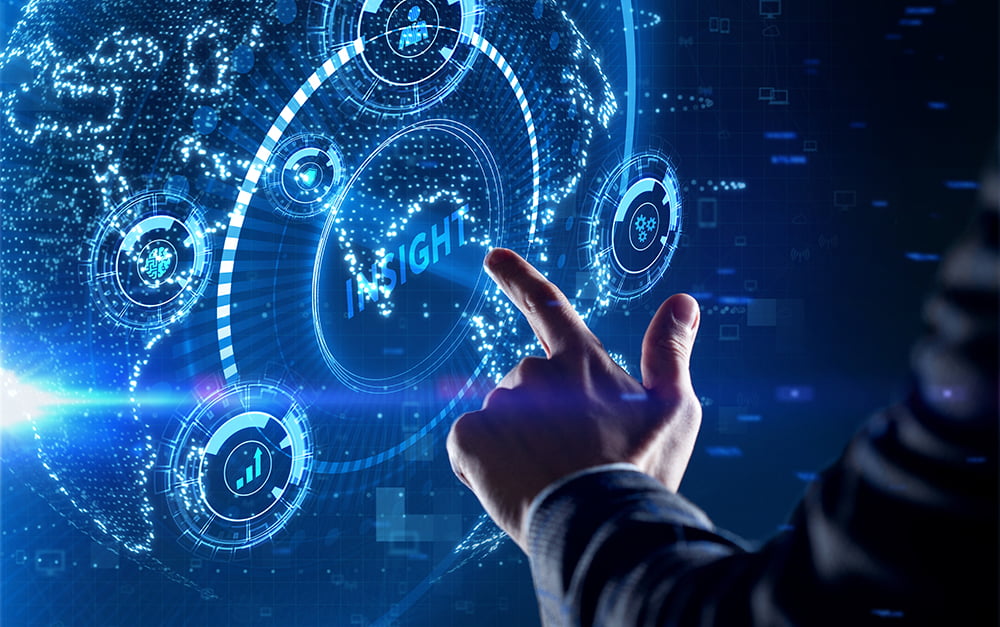 Lessons learnt from the Energy Crisis with Inspired PLC
What were the key takeaways discussed in our webinar, on lessons learned from the energy crisis? Watch back on-demand.
In April, Inspired PLC's experts hosted a webinar on 'Lessons learnt from the energy crisis' which was attended by over 100 UK manufacturers.
The price of energy has become a leading concern for many UK manufacturers.
The prolonged high prices caught the industry by surprise and has significantly impacted the cost of operating, especially for sectors that require an uninterrupted energy supply.
Hosted by our experts, Dan Hulme, Scott Hardie and Claire Markham, who explored the steps we could have taken to be better prepared, watch the webinar back on demand.
Challenges and impacts
Over the last twenty-four months, price volatility and market movements in comparison to the last 5-10 years have been highly turbulent. The increase in price driven by a number of factors including the invasion of Ukraine, and COVID-19 to name a few, has left businesses struggling to juggle net-zero pressure alongside the impact of these rising costs. Fortunately, government announced the Energy Bill Relief Scheme, now known as the Energy Bills Discount Scheme, to support businesses during this time.
This has been further exacerbated by an increase in operational costs, leaving manufacturers forced to operate with a significantly reduced margin. Long-term certainty with energy prices has been a cause for concern as this reduces budget certainty. To add to this, energy wastage problems are now becoming a lot more expensive to ignore. All of which reduces UK manufacturers ability to compete with overseas competition due to higher operational costs.
The recent energy crisis has highlighted the importance of creating a sustainable and resilient energy system and strategy for businesses.
Are you paying the correct amount?
Sometimes businesses may overlook finer details within their contracts, and some find that incorrect amounts have been charged or that they are eligible for schemes such as the Energy Intensive Industries (EII) Exemption scheme and are entitled to a discount against their environmental levy charges.
Take the time to review your invoice and note if you are receiving discounts for eligible parts of your energy bill (Climate Charge Levies) such as the Contracts for Difference (CfD), Renewables Obligation (RO) or Feed in Tariff (FiT). All of which are renewables taxes charged by the government to supplement the cost of new renewable generation technology within the grid.
However, if you are eligible for this discount, Manufacturers should note that any relief claimed cannot be backdated, so the sooner you apply for any exemptions the better.
The government also announced in this year's budget that the Climate Change Agreement (CCA) is being extended for current participants to March 2027. And this is expected to re-open to new applicants from May to September 2023, meaning that eligible businesses could apply for up to 92% saving on their CCL charges.
How can you eliminate energy waste?
To help reduce your energy consumption and cost, you should look at how you use energy on site and how it may be wasted too. There are a number of sub-metering solutions available on the market that allow you to monitor energy behind the meter. Sensors can be installed at circuit level, giving you an overall picture of your energy, or they can also be applied at asset level to monitor individual pieces of equipment. This will give you a good understanding of where energy is being used across your site, but more importantly, where it is being wasted.
You should also be sure to act on opportunities to reduce consumption and waste through your Energy Savings Opportunity Scheme (ESOS) report. Many manufacturers who are captured by ESOS and have completed their Phase 2 reports, may not have acted on all the available savings opportunities.
For those captured by ESOS Phase 3, you must ensure to meet the deadline of the 5th December 2023 but you should act now to take advantage of the savings opportunities identified by getting your survey completed as soon as possible. And for those who aren't captured for mandatory ESOS reporting, consider voluntary reporting to access savings opportunities, that can help you manage energy costs now and in the future.
Reduce your reliance on the grid
Our experts recommend that you adopt viable energy reduction recommendations made in your ESOS report, which will set a baseline of energy usage. From here, you should investigate low carbon on-site generation options. This can include:
Combined Heat and Power (CHP)
Voltage Optimisation (VO)
Waste Heat Recovery (WHR)
Reducing your reliance on the grid means you can be more in control of your costs, as well as supporting your carbon reduction targets.
On-site generation is a form of decentralised energy, not supplied by the transmission or distribution network. Depending on how large your on-site generation project is and the demand of your site, there may be times where a surplus of energy is generated. This can then be sold back to the grid or to an alternative off-taker through a private wire. You can also store this surplus of energy using battery storage to then use again on your own site, providing you with both cost and carbon savings.
Technology adopted for on-site generation is low carbon and will provide your business with increased generation efficiency levels and will be instrumental in driving your businesses net-zero strategy, reducing reliance on fossil fuels.
Explore risk-managed procurement
Many manufacturers were caught out during their fixed price renewals as market rates soared at the peak of the energy crisis. Proactive energy procurement can help you to protect your business in the future and avoid leaving you exposed to peaks in the market.
There are a number of strategies to choose from when it comes to flexible procurement, but the key is balancing your risk. This means you can purchase your required energy volume at different points in time, taking advantage of dips in the market. This strategy allows you to be more proactive and purchase into the future.
Below is an example of a flexible risk-managed strategy in action: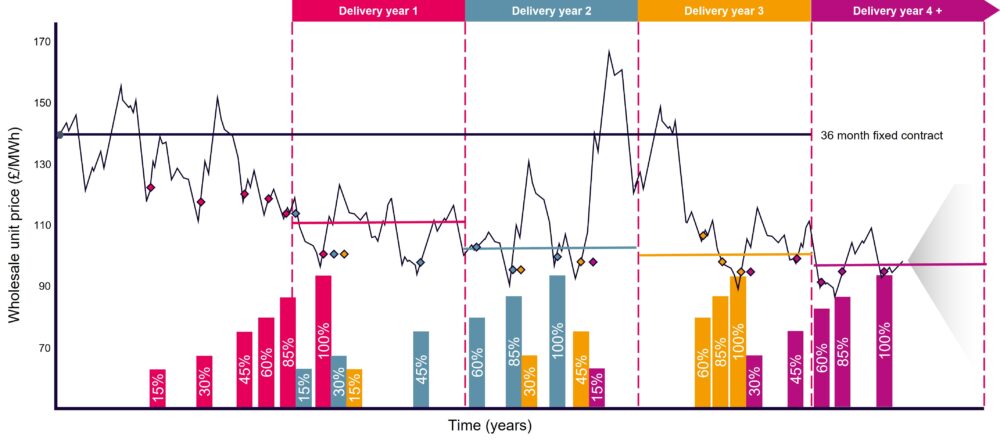 Meeting your ESG and sustainability goals
Large pressures that manufacturers are facing include ESG and net-zero. Being able to quantify the reduction in cost and consumption that the actions mentioned will provide will be essential in meeting your ESG and net-zero obligations.
By measuring a baseline of emissions in order to track future progress against, you can identify opportunities for efficiency quick wins, investment, on-site generation and green energy procurement.
To learn more about how Inspired PLC's experts can help your manufacturing business reduce your energy costs and become more resilient, get in touch on 01772 689250 or email [email protected].